Course Details:
The Minnesota Multi-State Permit to Carry Class is great for first time students as well as those looking to renew their permits! This class will cover all of the basic safety principals and laws regarding the Minnesota Personal Protection Act to safely and responsibly carry a firearm.
Following classroom instruction there is a live fire exercise where each student shoots 20-30 rounds at a man-sized target approximately 15 feet away. Both the classroom instruction and live fire exercise are completed in one class session.
Class Length: 3-4 hours Prerequisites: None Level: Beginner
Important Notice:
Due to COVID-19, seating is limited and all purchases are non-refundable. However, if you miss your scheduled class you will be able to reschedule for any other available future class. Range fee is included with purchase.
Basic safety principles
Proper shooting fundamentals
Anatomy of a firearm
Ethics
Home defense
Physiological and emotional effects of a lethal conflict
Defensive gun use
The threat and use of lethal force
Police encounters
Aftermath of a shooting
The permit itself and how to obtain it
Prohibited vs. banned from carry
Live fire exercise
Handgun of any caliber

Sharing is not allowed please

. Gun rental is available.

1 box (30 rounds of brass ammunition)
Eye and ear protection (available for rental)
Valid I.D.
Receipt from online payment
Guns and ammunition rental can be provided at $40 per student.
We will supply at no charge: targets, class materials.
Multi-state permit upgrades are also available at checkout.
---
Which States Honor The Minnesota Permit to Carry?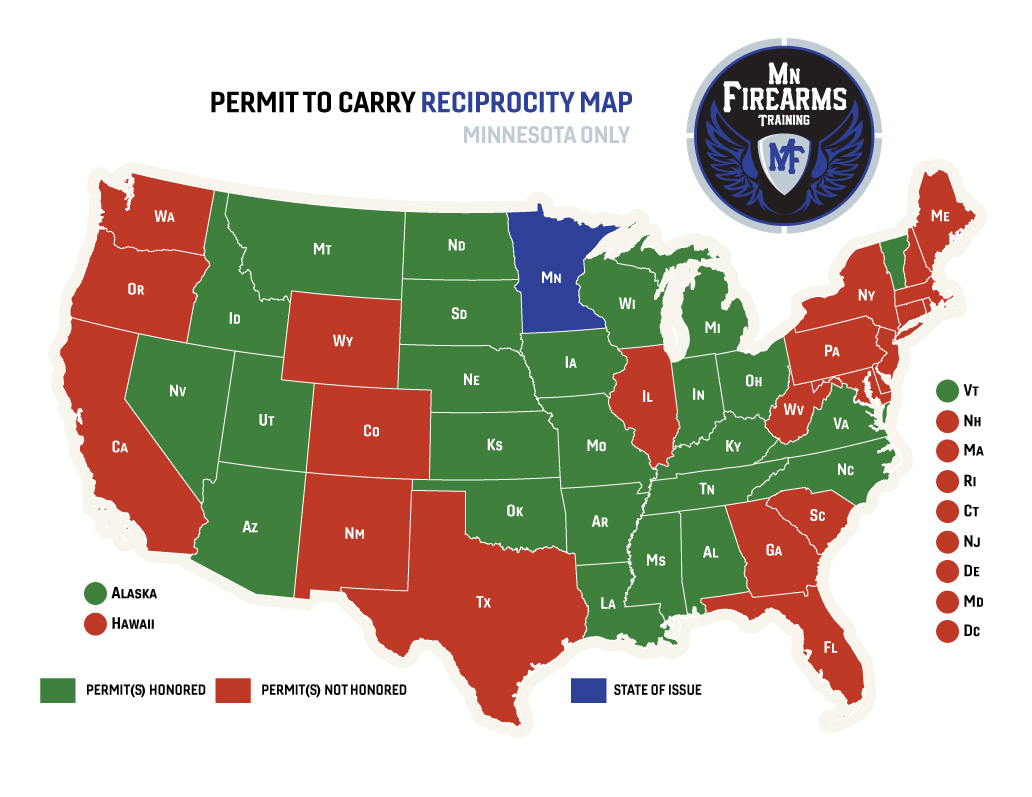 Permit is Honored in: Alabama, Alaska, Arizona, Arkansas, Idaho, Indiana, Iowa, Kansas, Kentucky, Louisiana, Michigan, Minnesota, Mississippi, Missouri, Montana, Nebraska, Nevada, North Carolina, North Dakota, Ohio, Oklahoma, South Dakota, Tennessee, Utah, Vermont, Virginia, Wisconsin
Permit is Not Honored in: California, Colorado, Connecticut, Delaware, District of Columbia, Florida, Georgia, Guam, Hawaii, Illinois, Maine, Maryland, Massachusetts, New Hampshire, New Jersey, New Mexico, New York, New York City, Oregon, Pennsylvania, Puerto Rico, Rhode Island, South Carolina, Texas, Virgin Islands, Washington, West Virginia, Wyoming, American Samoa, N. Mariana Islands
Florida and Utah Multi-State permit upgrades are available at checkout. See which states honor the Florida and Utah Multi-State permits.
---
As heard on: