If you're a Minnesota resident and wondering where to buy a gun, you've come to the right page. Last year we saw record increase of first time conceal and carry permit holders. These are uncertain times and many people have safety concerns for their family and loved ones. Purchasing a firearm shouldn't be nerve-wracking experience. On the contrary, with the right education and training Minnesota Firearms Training has helped many students overcome their worries and concerns.
In this article we'll cover the most common types of firearms and even offer some recommendations for purchase at our shop. Of course, we haven't forgotten those of you who have owned and used firearms for years. In addition to our selection of guns, we offer many different kinds of ammo and accessories for the enthusiast. Visit our online store to instantly view our inventory or keep reading to learn more.
Where To Buy a Gun – Handguns
Purchase here: Handgun inventory.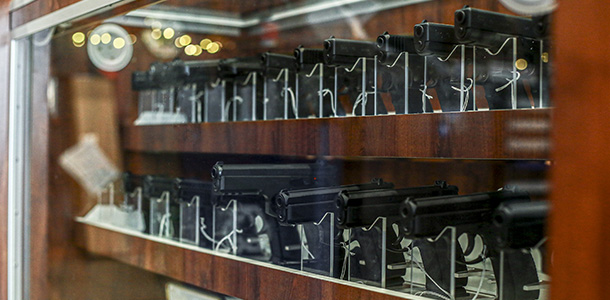 When it comes to self defense the two main types of handguns are revolvers and semi-automatic. Each have their own pros and cons and your preference will depend on several factors. Perhaps the most obvious difference is the number of bullets each can hold. A revolver is typically limited to 6 bullets at a time. Compare that to a semi-automatic handgun with a magazine that may hold 15 or more bullets. It's important to note that in most encounters you'd be dealing with one, maybe two attackers. This is where proper training becomes vital as the goal is not to fire as many bullets as possible but to deter or eliminate the threat.
Reloading a revolver requires you to take your focus off the threat whereas semi-automatic handguns offer quick reloading. However, the caveat with semi-auto's is that you must rack the slide to chamber a round. The term "cocked and locked" refers to performing this action beforehand with the safety on. Doing so would be extremely unwise especially with children in your home which may lead to tragedy. Again, proper training comes until play and remembering to rack the slide in a scary situation could be the difference between life and death.
One myth that seems to continue to perpetuate is that a "revolver never jams". This is simply not true and one should not base their decision solely on this statement. Both revolvers and semi-automatic handguns are very reliable when properly cared for. If you're uncomfortable cleaning your gun we do offer this as a service on our gunsmithing page. Taking all of this information into consideration, we do have recommendations for both types of handguns.
Revolver – S333 Thunderstruck
This unique revolver is affordable, compact, and extremely unique. The 333 refers to the common belief that most self defense scenarios take place within three yards, with three shots fired in under three seconds. 8 Rounds of .22 caliber ammunition is more than enough firepower to bring a threatening encounter to a complete stop. What's interesting about this revolver from Standard Manufacturing is that it fires two shots with each trigger pull. That means a total of 4 shots are fired with this weapon before being emptied. Keep in mind that this revolver is designed for use in close encounters and accuracy will decrease as distance increases.
Another nice feature of this revolver is the two-finger trigger. It's almost impossible to fire it with your index finger alone. Why is this important? For safety purposes of course. Since such force is required to pull the trigger, there is very little chance of accidental fire. That should provide some peace of mind should such an unfortunate stressful situation occur. Check out this review of the S333 Thunderstruck for more information.
Purchase the S333 Thunderstruck.
Semi Automatic – Glock 19
Widely considered by many to be the gold standard of personal defense handguns, the Glock 19 has been a favorite for years. For concealed carry use, it's 15+1 ammo capacity is more than enough to neutralize threats. Weighing 30 ounces with a full magazine it's light weight does not compromise accuracy. Adding a laser or light to the Glock 19 is also very easy to help aid your aim.
As far as reliability, there are many tests in regards to abuse done to this gun which did not affect its operation. In fact, many law enforcement officers have come to rely on the Glock 19 for use during pursuits and encounters. In some cases, officers told of this gun being knocked away, run over, and still functioning as intended. Disassembly and maintenance/cleaning is also easy to do as evidenced by the many videos on YouTube explaining how to.
Contact us to inquire about purchasing the Glock 19.
Ideal For Hunting – Rifles
Purchase here: Rifle inventory.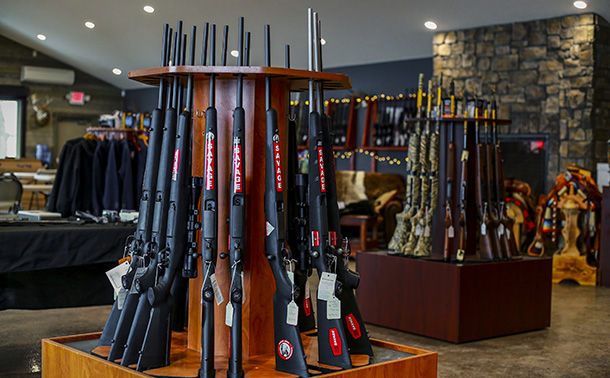 Hunters wanting to know where to buy a gun in the Anoka county area will appreciate our large selection. Like handguns, several different mechanisms power rifles. One of the more popular styles is the bolt-action rifle. Known for their supreme accuracy and durability, precision shooters have effectively hit targets approximately half a mile in some certain competitions.
If recoil is a concern you may want to consider purchasing a semi-automatic rifle. Instead of the recoil being done at once as in a bolt action rifle, it is broken up in 3 stages. The trade-off is bullet velocity which may affect your accuracy. Also, due to their complexity, semi-auto rifles are more prone to malfunction making regular maintenance a must.
Top Pick – Savage Axis II XP
Designed for the hunter who seeks a rifle ready for use right of the box, the Savage Axis II XP is a reliable choice. Available in different calibers, this variant is for the 7mm-08 Rem caliber. The included Bushnell Banner scope has water proof and fog-proof protection. Perfect for use in a variety of weather conditions. Furthermore, the Axis II XP comes with Savage's proprietary AccuTrigger™.
Whats is AccuTrigger™? In plain terms it's a user-adjustable trigger also defined as a two-stage trigger. With the typical one-stage trigger only a single motion is made inside the trigger mechanism. You pull the trigger and the gun fires. The two-stage feature of AccuTrigger™ allows one to customize the difficulty of pulling the trigger making it easier or more difficult. Basically, hunters may customize this action as they see fit.
Purchase the Savage Axis II XP.
Buying a Shotgun for a Specific Use
Purchase here: Shotgun inventory.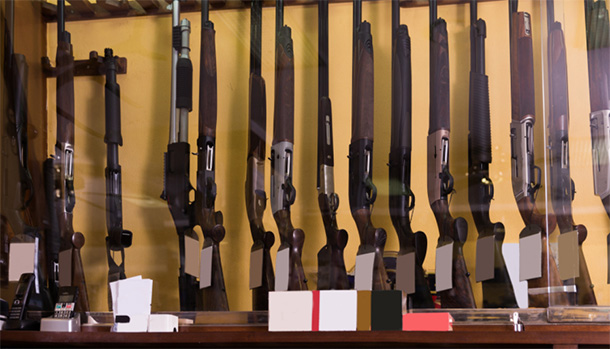 Purchasing a shotgun is the next logical step for gun owners who are already familiar with handguns. It is important to understand which shotgun is suited for a particular use. If you buy one that was designed for turkey hunting, chances are it is unsuitable for home defense. Since a shotgun has multiple points of contact, target acquisition is a bit easier. Although it is not ideal for navigating in tight spaces. This article does a good job of explaining the pros and cons of handguns, rifles, and shotguns for home defense.
Now, let's consider that you are in the market for a shotgun for home defense use. Two types of shotguns come to mind – pump action and semi automatic. A pump action shotgun is easy to use once you're accustomed to the slide-action when chambering and ejecting a shell. A semi automatic shotgun, consisting of a gas or inertia operating system, is easy for follow-up shots but more expensive than their pump counterpart. They also require more maintenance, especially with gas-powered systems.
Home Defense Choice – Mossberg 500
Second to only the Remington 870, the Mossberg 500 is on many recommendation lists for home defense shotguns. The All-Purpose variant is not only an excellent choice for home defense but trap shooting too. When Guns & Ammo says it is the best home defense shotgun of all time, you know you have a dependable gun. They mention that the location of the safety is great for left or right-handed users, even in darkness!
Contact us to inquire about purchasing the Mossberg 500.
Ammo, Accessories, and More
Now that you know where to buy a gun for your home defense and hunting needs, you'll likely want to shop for some accessories. We carry most major brands for things like scopes, lasers, holsters, magazines, and ammo. Visit our shop to see what's in stock.
If you need help finding something please don't hesitate to call us at 612-644-8864 or email mike@mnfirearms.com. Our store is located at 2520 N Ferry Street, Anoka, MN 55303 and everyone is welcome! We look forward to doing business with you.